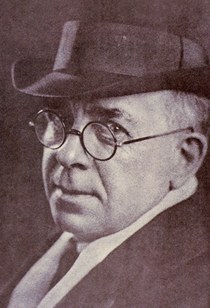 Robert Byron Tabor (1882-1972)
Mr. Tabor was born in Independence, Iowa and spent most of his life in the Independence and Oelwein area. He began to paint at the age of 52. One of his first oils, painted under the Public Works of Art Project, was selected by Edward Bruce, director of the project, as one of the 25 best pictures out of 15,000 works submitted. This piece was ultimately chosen by President Roosevelt to hang in the White House in Washington, D.C. Several other paintings are in display in public buildings such at the Independence Post Office, Buchanan County Court House, Physics Building in Iowa City, Lane Insurance Company in Independence, The Oelwein Daily Register Office, Independence and Oelwein Public Libraries, and the Boss Hotels in Des Moines and Estherville.
Mr. Tabor's paintings have been exhibited in various art shows throughout the country; including one man shows in Wichita, Kansas City, Waterloo and Cedar Rapids. He was a member of the Ozark Artist's Guild, the National Society of Mural Painters, and the Northeast Iowa Art Association.
ROBERT TABOR SHOW
October 1-28, 1972
Oelwein Public Library
Oelwein, Iowa
Sponsored by: Oelwein Public Library And Northeast Iowa Art Association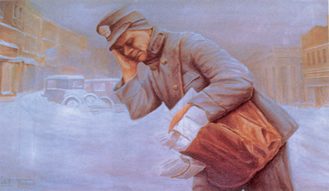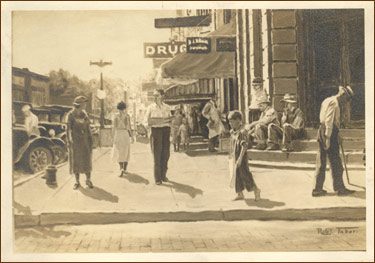 CATALOG – TABOR SHOW
Postscript: the Buchanan County Historical Society owns the glass negatives taken by Robert Tabor. Mr. Tabor combined as many as six photographs to do just one painting.
1968-5.1 – negatives
1989-1.1 photos from glass negatives
1970-3 "Iowa Heritage" magazine Spring 2000 issue with Tabor articles
1961-6.55 newspaper article of Robert B. Tabor
Copy of Robert Tabor Show/Oelwein Public Library (2005)
| | | |
| --- | --- | --- |
| #29 | "Man with a Pipe" watercolor/unk creek | Klotzbach Estate |
| #38 | "Poker Party" | E.F. Tabor II |
| #39 | "The Election Board" | Buchanan County Court House/2nd floor |
| #67 | "Main Street" | Independence Public Library |
| #68 | "The Library" | Independence Public Library |
| #70 | "Portrait of Dr. B.B. Sells" | Given to grandson (Sorg) |
| #184-7 | "The 4 Seasons" | Owned by Edna Lane Gilliland Shain – displayed at the University of Northern Iowa Cedar Falls, Iowa |
| #188-192 | | Owned by Edna Lane Gilliland Shain – displayed at the University of Northern Iowa Cedar Falls, Iowa |
2006: Waterscape, possibly of Wapsipinicon River in 1958
Owned by Leanne/Jim Harrison, Independence, IA
Unknown if it is any from the above 'showing' in 1972
Exhibited at Oelwein Public Library:
"Discussion" – oil depicting Amish school
"The Amishman" – oil portrait
"Chick" – (a working man) oil
"Desertscape" – SW scene with cactus watercolor
4 drawings/postcard size in one frame
Pen-ink drawings