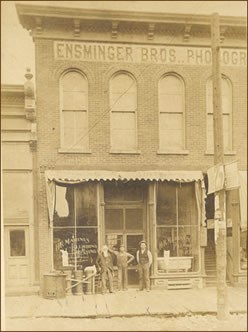 ENSMINGER, JEFFERSON C. 1845-?
Copied from www.iowahistory.org/archives 2006
Then Ensminger Brothers had their studio in Independence, Buchanan County, in the 1860's through the 1890's.  The studio was in Ungerer's Block, No. 3 Main Street.  Jefferson worked with his brother, Madision, as the Ensminger Brothers.  They were the sons of E.M. Ensminger, an eastern photographer.  A cabinet photo of Jefferson C. Ensminger, taken by "Mad" (Madision) exists.  In 1870 census, Jefferson was 27 and had been born in Ohio.  In 1880 census, he is listed as 38 with wife, Amanda L. who was 31.  Two children, Fred P., aged 3, and Mary B., aged 1 both born in Iowa.  The HISTORY OF BUCHANAN COUNTY, IOWA, 1881, pp 271-272, provides the following information: Ensminger Brothers, established about 18780 give special attention to copying and enlarging; three person constantly employed.  The firm consists of J.E. Ensminger and J.M. Ensminger and are located in Ungerer's block upstairs.  This enterprising firm engaged in photography in the city of Independence, consisting of J.C. and J.M. Ensminger, was organized in the year 1870.  The senior partner, Mr. J.C. Ensminger, was born in Stark County, Ohio, in 1843.  His father being a photographer, he commenced when only a boy, to make himself well acquainted with the business.  When he became a man his design to become proficient as an artist led him to Cleveland, Newark, and Columbus, Ohio.  Also to New York City and Pittsburgh, Pennsylvania, where he was connected with some of the finest galleries in the country.  Sparing neither time nor money to make himself master of the photographers are, in all its branches.  In the year 1868, he came to Independence where he has since been engaged in the business.  Mr. J.C. Ensminger was married in Waterford, Vermont, in 1872, to Miss Amanda Brown.  They have a family of two children, Freddie and Mary, aged three and five respectively.  Mr. J.M. Ensminger was born in Stark County, Ohio, in 1845.  He associated himself with his father in the photograph business in Ashland, Ohio, principally prior to coming to Independence, which was in the year 1870 at which time he and his brother engaged as partners.  Mr. J.M. Ensminger was married in this county, in 1877, to Miss Alice Anderson, a resident of this county."  Both brothers are listed in the 1881 GAZETTEER as being in Independence.  There are nineteen examples of this photographer's work in the SHSI collection.  NSA reports they used the term "Photographers & Publishers of Stereoviews" and issued local scenery to #61.