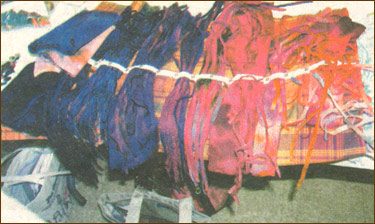 The earliest forebears of hooked rugs were the floor mats made in Yorkshire, England during the early part of the 19th century. Workers in weaving mills were allowed to collect thrums, pieces of yarn that ran 9 inches (23cm) long. These by-products were useless to the mill, and the weavers took them home and pulled the thrums through a backing.
Rug hooking as we know it today developed in North America, specifically along the Eastern Seaboard in New England in the United States and the Canadian Maritimes.  In its earliest years, rug hooking was a craft of poverty.  The vogue for floor coverings in the United States came about after 1830 when factories produced machine-made carpets for the rich.  Poor women began looking through their scrap bags for materials to employ in creating their own home-made floor coverings.  Women employed whatever materials they had available.  Girls from wealthy families were sent to school to learn embroidery and quilting; fashioning floor rugs and mats was never part of the curriculum.  Another sign that hooking was the pastime of the poor is the fact that popular ladies magazines in the 19th century never wrote about rug hooking.  It was considered a country craft in the days when the word country, used in this context, was derogatory.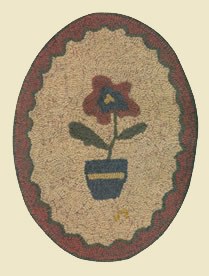 Since hooking was a craft of poverty, rugmakers put to use whatever materials were available. Antique hooked rugs were created on burlap after 1850 because burlap was free as long as one used OLD GRAIN AND FEED BAGS. Every and any scrap of fiber that was no longer usable as clothing was put into rugs. In the United States, yarn was not a fiber of choice if one did not have access to thrums. Yarn was too precious, and had to be saved for knitting and weaving. Instead the tradition of using scraps of fabric evolved. Yarns and other creatively used materials have always been used for hooked rugs in the Canadian Maritimes.
Traditional Rug Hooking is a craft where rugs are made by pulling loops of yarn or fabric through a stiff woven base such as burlap, linen, or rug warp. The loops are pulled through the backing material by using a crochet hook mounted in a handle (usually wood) for leverage.
The modern preference for using only cut wool strips in hooked rugs originated with Pearl McGown in the 1930s, and may have saved the craft from disappearing in the United States.
Please be sure to stop by Heartland Acres to view this working exhibit. You can watch this being made.