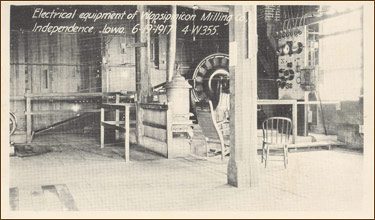 The mill you see today was built in 1867-1870 by Samuel Sherwood and it is the foremost cornerstone of our community. The six story structure is 112 feet long by 62 feet wide by 102 feet tall and was used at first as a flouring mill. The superstructure was constructed using a heavy timber frame encased with a brick wall 8 inches thick. The interior of the building reveals hand hewn timbers and superb craftsmanship. Mortise and tenon construction was used throughout the building, complete with square nails and large wooden pegs.
Bread in all times and in most cultures is considered the staff of life. Therefore, grinding the settlers' wheat into flour and other grains into various mill products for a fast-growing population was of the utmost importance. The Wapsipinicon Mill served in this capacity for over 100 years. As wheat production slowed down, it became more economical to produce "Wapsi" brand poultry and stock feed.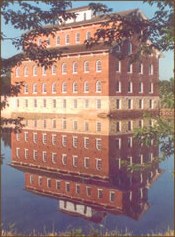 It still resides in its original location but has since received several cosmetic reconstructions. Surrounded by several eateries and just over the bridge from our historical downtown, the Wapsipinicon Mill serves as a substantial tourist attraction and is listed on the National Register of Historic Places.
Step back in time and relive the experience of pioneer grist milling. View original 1870 millstones, belt and bucket elevators, grain storage bins, shafts and gearing, milling machines and various milling equipment. Visit this significant, vital historical attraction. Photo exhibits, interactive displays and interpretive exhibits plus numerous pioneer agricultural artifacts wait you. The Wapsipinicon Mill links the pioneer farmer to agricultural modernization and tells the miller's story of how the mill served to provide the early settler with processed food and then feed for livestock.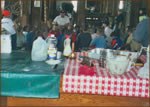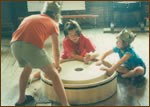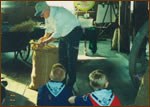 The Mill is owned by the Buchanan County Historical Society and is open mid-May through mid-September, Tuesday – Sunday noon to 4pm. Handicap accessible cement ramp to the first floor and restrooms. Volunteer on duty. Donations accepted. A Partner Site of Silos and Smokestacks National Heritage Area. The Wapsipinicon Mill was designated as "Site of the Year" by Silos & Smokestacks in 2010. Group tours need one week advance notice with $3.00 per person. 319 334-4616